hello, lovelies!
This post is the first I will write, but certainly not the last, about the life of the odd teenager of 16 years that is myself. :)
Friday last marked the much awaited two-week break from school. My days have been filled with walks with my puppy, lolly shops that smell of vanilla, too much laughter, sixteenths and seventeenths and eighteenths,wishes at 11:11, movie marathons, surprise birthday parties, sleepovers, room make-overs, chocolate fondues, car rides with our heads over the sunroof, and dreaming and wishing and hoping for all the time in the world.
In reference to the oddball of a title:
A good friend and I decided to spend a day furniture shopping. We visited anywhere and absolutely everywhere in our little hometown, and at our second stop, after IKEA of course, we spotted the cutest sofas that came in colours green, red, blue and the brightest yellow. Whoever created these amazingly adorable things, you are certainly genius. The perfect addition to a child's bedroom, I only wish I had one when I was a little girl. Green would be first preference, without a doubt. I was about to take photos when I realised I'd forgotten my camera in another bag; so unlike me, I almost
always
carry that old thing around!
My friend was generous enough to snap some photos of me on a red sofa, looking silly and awkward as always, in my black-rimmed oversized glasses (which are actually my everyday specs in case anyone was wondering!) and not the wisest of shoe choices for a day of much to-ing and fro-ing. Oh dear!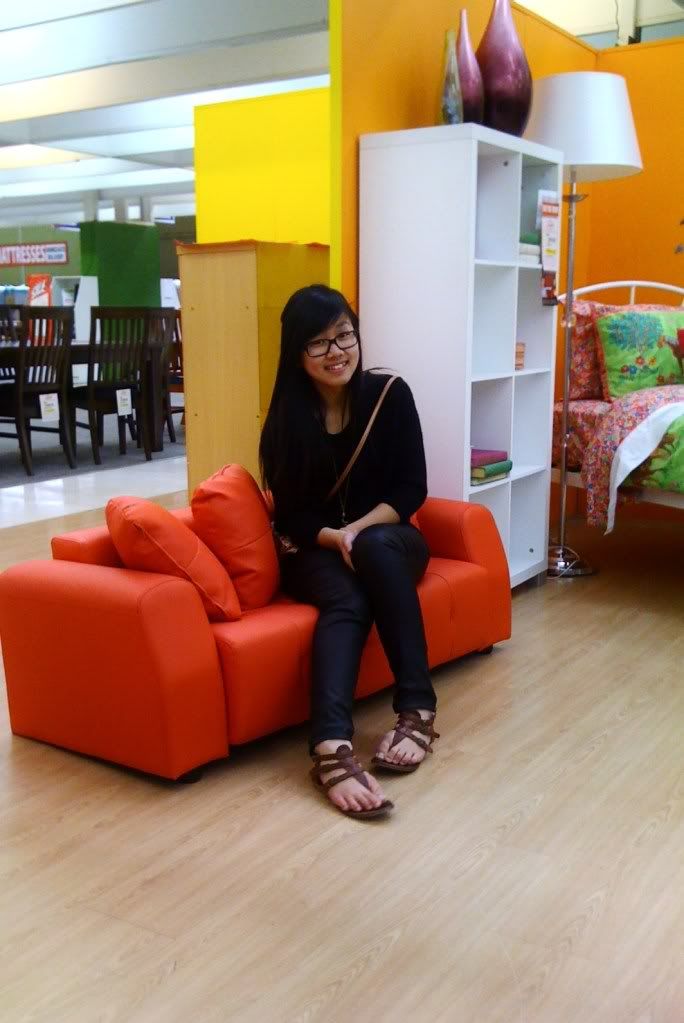 I would've taken some more photos, but the saleswoman looked at me funny.. I suppose it would have been a just a tad strange to see a teenager amuse herself with a miniature sofa. I felt like a giant sitting on this red 3-seater mini sofa. Apologies for the poor resolution in these photos, it was taken on an iPhone 4, but I guess that makes no difference!
I'll be back soon with an outfit post, all fingers and toes crossed!
Have a great day, lovelies!
x